"The sneaker drop no one could sleep on"
adidas Originals was setting out to launch Nite Jogger.
Like the creators who pursue their actual creative passions long into the night, these reflective runners were one thing by day and another by night.
So often, these late-night creators are left working alone—with no facilitation or even anyone speaking their language. In the sneaker category, where a sense of irony purveys over actual utility (Supreme selling their consumers bricks, anyone?), how could we prove that we as a brand didn't just understand them, but would be there for them?

Rather than creating a traditional campaign, we created an entirely new brand:
NITE GOODS. A provider of products and services designed to fight the number one enemy of late-night creativity: sleep.
Then, rather than advertising the sneaker, we advertised the products. With full campaign ecosystems surrounding each of the NITE GOODS, from traditional media, to social activations, to physical moments on the streets of New York City.
Nite Bear
We first turned to an object meant
to comfort you, and made something
that would do anything but.
Introducing NiteBear. Hand-crafted in Brooklyn by Junichi Nanake of Kumanokoido fame, and with only 60 in existence, the bear also featured hi-vis elements, inspired by the sneaker's own reflective detailing, and the voice of Eric André, host of one of our audience's most beloved late-night television shows.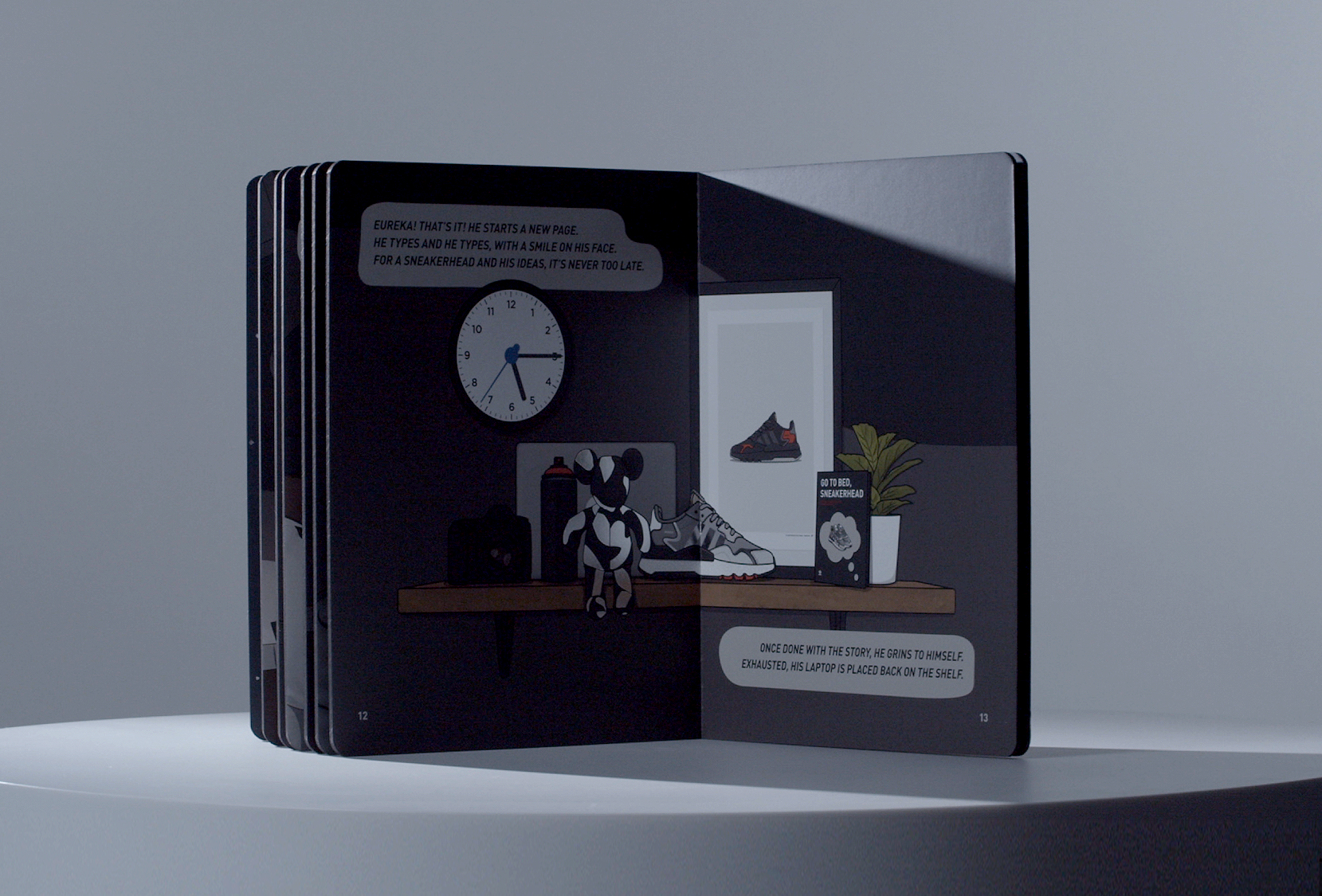 Go to Bed Sneakerhead
The anti-bedtime story.
Created by some of sneaker culture's most preeminent creators: writer Fabian Gorsler of Highsnobiety, and designer/illustrator Dan Freebairn of @kickposters.
NiteChat
A late-night helpline
creators could actually dial in-to, for inspiration and motivation to keep them going when they need it most.
"IT'S PROBABLY THE MOST WHOLESOME LAUNCH I'VE EVER SEEN." — NYLON
Then, rather than advertising the sneaker,
we advertised the products
Teaser films announced the products—and where to cop them.
Wildpostings appeared in some of the most relevant late-night spots in downtown New York City, teasing the products, and announcing something to come.
The products launched on social, from a social spot on Eric Andre's Instagram, to a digital story on Instagram Stories for Go to Bed, Sneakerhead, to a tease of the phone number online.
After building the hype, we hit the streets
A nighttime "Bookstore" opened outside one of Soho's most iconic independent bookstores. When they rolled in their shelves, we rolled out ours.
A claw machine offered creators their chance to win NITEBEAR—and a nighttime supply of pep-talks.
The new brand launched with a film, based on
late-night channel-surfing.
"YOU'LL DEFINITELY NEED TO BE QUICK ON YOUR FEET IN ORDER
TO GET YOUR HANDS ON THESE ITEMS." — #FOLLOWNEWS
RESULTS
+6.4M OUTDOOR IMPRESSIONS
+37M EARNED IMPRESSIONS ONLINE
93% INCREASE IN IMPRESSIONS ON @ADIDASNYC TWITTER
+10,000 ENTRIES TO WIN THE FULL KIT
WITH LINES FORMING +7 HOURS IN ADVANCE
FOR A SNEAKER THAT WASN'T EVEN RELEASED YET
AND FULL KITS RE-SELLING FOR UP TO $12,500